CHROMIUM CARBIDE WEAR PLATES
Chamfer Inc. specializes in manufacturing chromium carbide overlay wear plate. We were one of the first to develop this technology back in the 1980s and have the ability to apply the coating to irregular surfaces. The manufactured wear plate has a Brinell hardness of 600 and offers a wear life of approximately 10 time that of AR 400. We can cut and form the product in house or supply full sheets, depending on our customer's needs. Please reach out to one of our talented team members for your next project.
COMMON USES INCLUDE BUT NOT LIMITED TO…
Chute liners

Feeders

Machinery Wear bars

Screeners
CI-650 BENEFITS
Chromium Carbide top layer creates an incredibly hard and wear resistance surface, while the A-36 mild-steel base plate provides ductility and toughness, absorbing impacts without cracking or splitting. Other base plate materials available.
Capable of withstanding high heat applications, up to 1050°F.
Nominal Brinell hardness of 650.
8x the wear resistance when compared with common 450 wear plate, and 10x as wear resistance when compared to AR400! (See graph for details)
Reduced frequency and length of down time.
Chemical optimized to work in nearly any application which requires both wear resistance and toughness.
CI-650 can be cut, welded, or bent into any form, depending on application.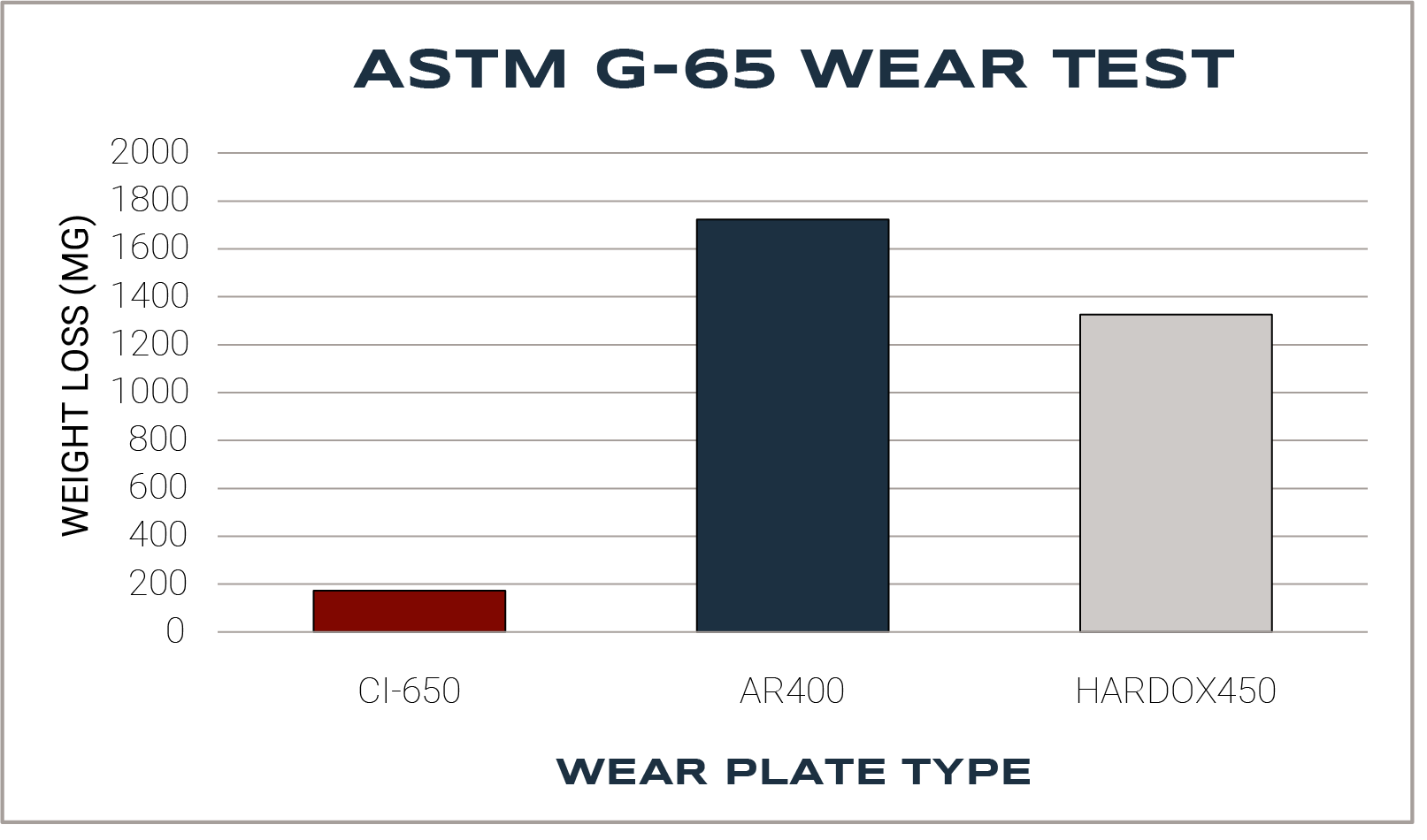 Contact our team of specialists to discuss your project
Our goal is to satisfy and respect your unique project needs, large or small. Contact us today to talk with a team member.